Introducing out first realistic fish toy with smart motion sensor and a built-in rechargeable battery so you cat can always have fun when you're not at home or busy at work!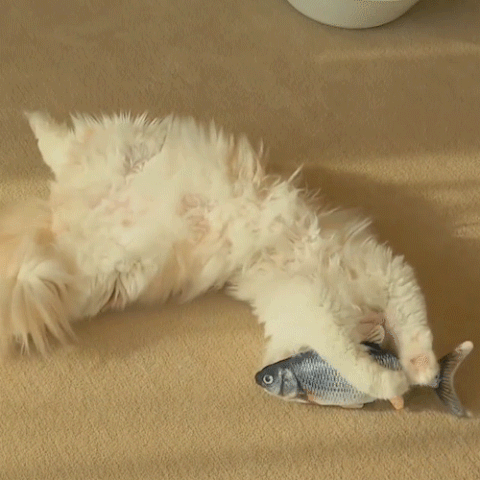 Motion Detecting Motor Inside: 
Kicks Just Like a REAL Fish When Touched. Stops Itself When Left Alone!
 Length: 
11 inches (30 cm).
 Refillable Catnip Pouch - Cat Safe Velcro Pocket is Easy to Refill with Catnip Over and Over Again!
 Your order comes with a: 
USB charger, catnip, motor with built-in rechargeable battery and the washable fish fabric.
 Built-in rechargeable battery:  
Our toy fish comes with a USB charger, and a built in battery that lasts a few hours after a full charge. This would be enough time to entertain your cat and relieve the stress throughout the day.
 Tough enough to handle the fiercest hunters: 
Out toy fish is made of high-quality material, so you don't have to worry about the safety and durability of the toy being scratched or bitten by the cat.
 Did you know cats get depressed too?  
Cats actually show signs of being clinically depressed, in a way that affects their physical health and quality of life. Cats become depressed through a lack of stimulation.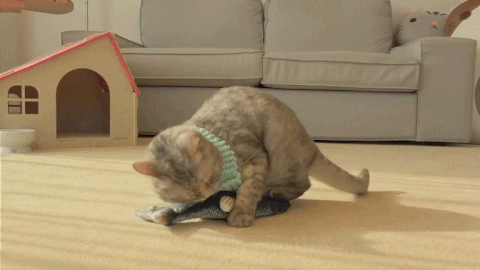 Boredom is a trigger of depression
F
or cats and humans alike! Increased periods of playtime is recommended by vets to avoid depression in cats.  Our toy fish can help you solve all these problems, and give you an active, lovely and healthy cat. This device is an interactive toy fish with three modes of vibration to keep your cat engaged. 
Due to High Demand For Our Product: Shipping Takes Approximately 5-13 Business Days.
>> NOT Sold in ANY Stores! <<