If you are tired of slicing by hand this slicer is one of the best tools for your kitchen
This new 2022 Stainless Steel garter will make your work faster and smoother
Product features:
Easy to use :
Very easy to use, and make work of canning and preserving food super fast. Each item rinsed clean and is ready for another use

Quality :
High-quality stainless steel blades for easy chopping, Sharp pyramid-shaped cutting blade for efficient and smooth cutting

Fast :
Fastest, safest and easiest way to Slice fruits and vegetables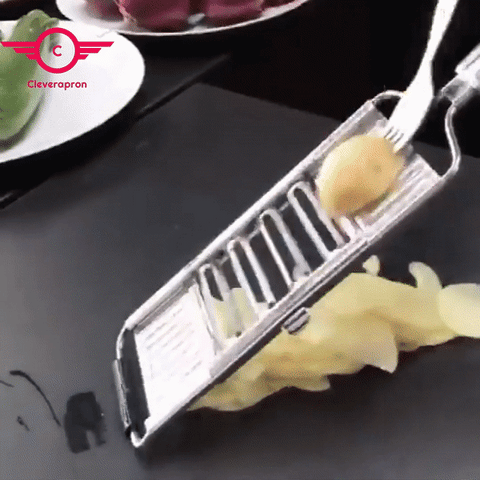 Handle :
No slipping or sliding to make slicing easy with handle to keeps your slicer in place.

Easy Grip :
Easy grip due to handle make cooking convenient Save time in the kitchen, and slice, grate, and julienne any fruits, vegetables, or cheese with ease!

Seriously Sharp:
No matter how you slice it, the veggie cutter's stainless steel blades stay extra sharp!


The slicer is patented, German designed and manufactured. It has 6 super sharp precise, stainless steel blades which makes it the quickest and most precise slicer in the wort. designed perfectly to make the task easier and quicker in your kitchen
HOW TO USE YOUR SLICER?
There are 6 interchangeable blades with the slicer.

All the blades are changeable easily by hand

If you are wanting to slice something small then put your vegetable/fruit on the safety guard. if not then hold it with your fingers for away front the blades.

Run your food over the blades and let the slicer do the hard work. you will find

Evenly sliced food every time


Best suitable to cut long vegetables such as cucumber and carrot, in shorter

Lengths before slicing use safety lengths

While using this slicer, push the food downward towards the blade rather pulling

Towards you because it is 8x faster than others slicers.

For the Heavy slicing don't forget to use a bowl inside the slicer pro.
Package Includes:



1* CleverApron's 6 in 1 Stainless Steel Vegetable Grater/Slicer


#Proudly made in India



Great Reasons To Buy From Us:

Money Back Guarantee
30 Day Money Back Guarantee- if the product is not as described, the product is damaged or if product not received