Achieve thicker and fuller hair in as little as 14 days!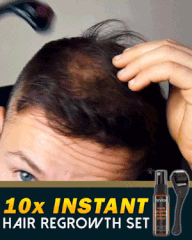 Visibly increase hair density up to 90% with our 10X Instant Hair Regrowth Set. The plant-based formula penetrates deep into the scalp to stimulate blood circulation and growth of hair follicles.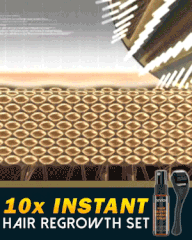 It activates dormant hair follicles by boosting blood circulation, accelerating the growth of hair follicles. Enriched with natural, chemical-free treatment, the set strengthens thinning and weak hair resulting in noticeably thicker, fuller and healthier hair.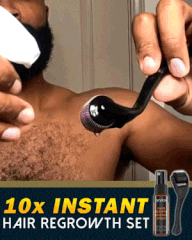 FEATURES
✨ ACCELERATES HAIR GROWTH
Enriched with natural nutrients, it can penetrate into the roots of hair follicles, activate dormant hair follicles.
✨ NOURISHING AND REPAIR HAIR
Effectively repair damaged hair's surface, lock in moisture & shine and control frizz. Repairs, softens and strengthens dry, brittle, frizzy, overworked and damaged hair.
✨ QUICK & LONG-TERM RESULTS
With continued use, you'll notice visibly thicker, fuller and more voluminous hair strands.
✨ ORGANIC & NATURAL EXTRACTS
Made of natural herbal extracts that are safe and healthy for the hair scalp. Chemical-free solution & does not contain any harmful substance or side effects.
✨ WIDE APPLICATION
Grow hair in other body parts, such as beard, brows, lashes, chest and more.
SPECIFICATIONS
PACKAGE INCLUDES
1 x 10X Instant Hair Regrowth Set