Create a bird-friendly backyard and feed wild birds.
Making our backyards as bird-friendly as possible is a smart environmental decision and one of the easiest things we can do to right some of the damage we humans have done to our mother nature.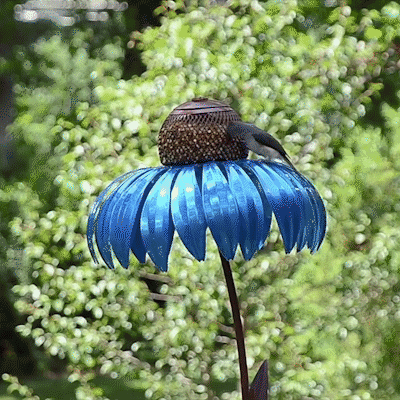 This transforms your backyard into a mini-ecosystem and you can experience nature up close and enjoy the company of the inhabitants of your backyard who would otherwise remain hidden in the treetops.
Advantages
Environmentally Friendly: It will help feed garden birds and create a mini-ecosystem for them.
Beautification: You will witness many songbirds and take advantage of nature as a whole.
Easy to Install: Very easy to assemble and the petals can be opened or closed as needed.
Material: plastic
Size: 14" W x 28" H
Update: Due to high demand for this product, we expect it to sell out quickly. If we run out of stock, it will take 2 to 4 weeks before we have it back in stock.

Try Flower Bird Feeder 100% Risk-Free Today
With thousands of happy customers across the globe, we know with confidence that you will love your new Fetiny™ Bird Feeder!. This is why we are proud to allow you to try them 100% risk-free.
If you aren't satisfied for whatever reason we will send you a replacement or refund your money, no questions asked! See full policy on the page footer.
Up to 50% Off for a limited time only. Hurry, click Add To Cart to order yours today!