[Healthier Tooth Care for Gum] The sonic tooth cleaner can effectively separate dental plaque, dental calculus and stains, easily remove hard tartar on the teeth, and prevent gum disease.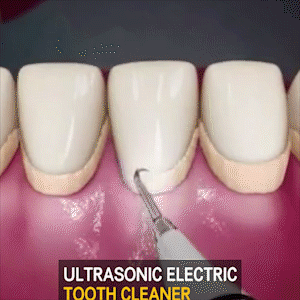 Vibration technology: Ultrasonic technology, 30,000 times per minute high-intensity frequency, effectively crush stubborn calculus, reduce artificial tooth enamel and gum damage.
USB rechargeable: USB safe and fast charging. It can be used about 200 times per charge, so there is no need to worry about power loss when traveling.
More flexible and safer to use: This tooth cleaning tool is equipped with an LED high-definition screen, an auxiliary LED light and a silicone handle. It has an intelligent memory function and automatically selects the last closed mode when it is turned on. The frequency can be adjusted in 4 levels to remove stubborn calculus, tartar and tooth stains. Automatic power failure after full charge, automatic protection and energy saving.
Use only the safest materials: food-grade silicone/PC/ABS/304 stainless steel head, IPX6 waterproof safety system, rechargeable, to ensure safety and convenience. Compared with the dentist, the cost is low, and it is very suitable to be carried in the bathroom or when traveling.
Color: pink, blue, black
Material: stainless steel, plastic
Applicable people: all kinds of skin
Features: The whole body is waterproof, IPX6 grade, can be directly rinsed, easy to clean, prevents bacteria from growing, and cleans teeth healthily. The head has a light to illuminate the oral cavity, and four super bright LED lamp beads are used to make the inside of the oral cavity more clearly when cleaning the teeth.
Usage: Use this product twice a week in the early stage and once every two to three weeks in the later stage
Package Included:
1 *Electric dental scaler
1*Interdental cleaner
1*data cable
1*toothbrush head
1*Instruction
Manual measurement tolerance is 2-5g. Please don't mind your replacement.
Due to the differences between different monitors, the image may not reflect the actual color of the item. thank you very much!