Cordless Automatic Hair Curler
The Automatic cordless curler is suitable for all hair types and lengths, choose your timer and temperature setting to create perfect curls, exactly as you want them.
Its AUTOMATIC, and CORDLESS! Styling and curling your hair the long way with wands and tangled cords is a way of the past, the future of hair styling is officially here!
The ceramic barrel ensures an even heat distribution and protects your hair for long lasting results.
Curling your hair has never been easier, or safer. No worry of burning your fingers or forehead anymore!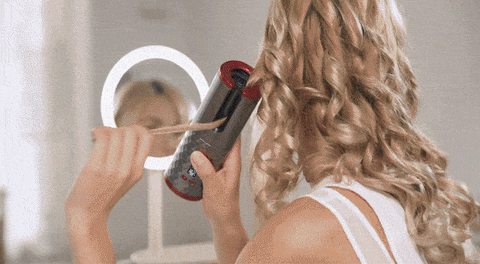 How it works:
The Automatic Cordless Curler uses Ionic Ceramic Coating technology to provide even heat distribution and prevents damage even on the most sensitive hair.
Hold a small section of hair and insert into the barrel inlet, press the rotation button in the direction you want, and the curler will collect the section of hair into the barrel and curl.
Release
the button after the timer ends, and gently release your hair from the barrel and
see the curl!


Perfect for Travel:
Can be used anytime and anywhere. With its lightweight, cordless and compact design makes it handbag friendly to change your hairstyle anywhere life may take you!
At work, after the gym or in the car, wherever you may need to fix up your hair!
Just plug it into a USB port and you're ready to go!
And for peace of mind, it also has anti-tangle protection that prevents your hair from getting stuck.
We ship internationally so for further details on shipping and shipping times to your country, please see our 'Shipping Policy', at the bottom of the page.