Make cutting pizza more effortless and enjoyable with Bicycle Pizza Cutter!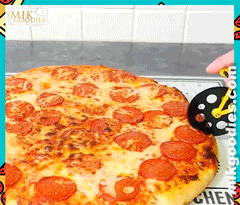 If you want a speedy way to slice your pizza then gear up and bring your servings to the next level with Bicycle Pizza Cutter! One of the coolest and easiest ways to portion your pies. Made with stainless steel, featuring a non-stick, dual sharp cut discs that can slice up your pizza cleanly and evenly. No more unequal splitting of servings!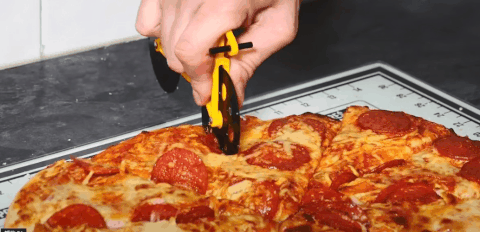 It has more to give! This cutter can slice not only your delicious pizzas, but you can also use it for other foods. Try it with bread, pasta, quesadillas, brownies and more possibilities with this beauty. The lifelike design hand held is made with high-quality accessory offering you maximum control to cut the crust or other food smoothly in one swift motion.  
Pizza night is more fun and easy as pie with this Bicycle Pizza Cutter!
Buy Yours Now! 
FEATURES:

Innovative Design
Lifelike bike design pizza cutter with non-stick, dual sharp cut disc. Offering you maximum control and excellent balance to slice your pie smooth and easy leaving perfectly shaped pizza slices behind.
Non-slip Handles
Pizza cutter with non-slip silicone handles that comes with safe blade covers and built-in finger protection. Giving you a secured protection and comfortable solid grip.
Easy to Clean
Non-stick front and back wheels cutter which helps you to easily clean the pizza cutter. Simply wash it with water and soap and now you're ready for another ride and slice!


Wide Application
Our product can do much more than just cutting pizza. Try it as a cutting tool to other similar foods to have an easy, cleanly slice cut. You can use it for bread, pasta, cakes, or even brownies. 
Convenient Gift
This pizza cutter is a sure fun and ideal gift to your cyclist friend or even someone who just needs a good slice of pizza pie! Hint! You can also make it as a display while you're still not using it. It features a bike stand so you can store it upright.
Premium Quality
High-quality bike pizza cutter with premium stainless steel dual wheeled cutter that can slice through dough and crust easily. It can endure cutting as many as you like without rusting and breaking!
SPECIFICATIONS:
Material:

 Stainless Steel, ABS

Size: 12 x 18.5 cm
Blade Diameter: 7.5 cm
Color: Yellow, Blue, Red, White