Flies aren't only annoying—they're also extremely dangerous! They carry bacteria and diseases that can contaminate your food. Automatic Fly Trap keeps flies and pests away from your table so you can relax and enjoy outdoor meals. It has holographmatic dots on the blades so you aren't constantly swatting bees, wasps, or flies while you're camping. No more nasty, disgusting bugs crawling all over your sweet treats!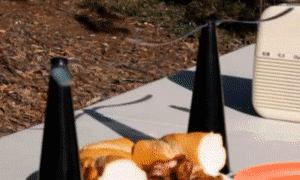 Chemicals are unsafe to use around food and drinks; plus, they can be harmful to children and pets. Automatic Fly Trap is chemical free so It won't disrupt your meal with strong odors or put your family's health at risk.
Gentle, Quick-Stop Blades
This repellent comes with soft and flexible blades that detect your hand approaching and stop spinning! This means when you're ready to load up your plate - the fan wont get in the way.
Enjoy Picnics, Cookouts, and Outdoor Meals Without Pesky Flies!
Host BBQ cookout parties, enjoy relaxing drinks with friends, go camping, sit by the poolside, or have a simple weekend meal with your family. All free from pests!